Crush Resistant Brewery Hose
Monofilament Reinforced, Butyl Hose; rebounds to its original shape after impact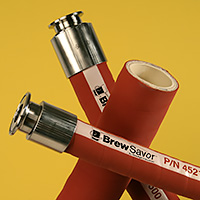 Notes
Construction

Liner:

White FDA Butyl rubber

Reinforcement:

Multiple plies of polyester with monofilament polymer helix

Cover:

Brick Red EPDM rubber
---
Fitting Styles Available
All recommended fittings, collars, hinge clamps and accessories are made from 300 series stainless steel.
---
Physical Properties**
Minimum
Operating Temp., °F

-40

Maximum
Operating Temp., °F

240

Working Pressure
at 70 °F (21.1°C)

150psi

Max Burst Pressure
at 70 °F (21.1°C)

600psi
**Values listed are typical for the material used in manufacture, except where noted, and are meant only as a guide to aid in design. Field testing should be per- formed to find the actual values for your application.
Introducing BrewSavor® by NewAge Industries – manufacturing tubing and hose products for both low and high temperature applications in the brewing process. Whether you are a Craft Brewer or a Home Brew enthusiast there are BrewSavor products to meet your needs.
Crush resistant – rebounds to its original shape after impact
Ultra smooth, white, chlorobutyl rubber liner offers high purity and unrestricted flow; minimizes bacterial entrapment and flavor contamination
Microbe-resistant liner is built on stainless steel mandrels for cleanliness and will not impart taste or odor to beer or other beverages
Multi-layered and reinforced with a monofilament polymer helix for superior crush resistance and durability
Meets FDA, USDA and Canadian Food Inspection Agency (file: N267) standards
Butyl compound conforms to 3-A Sanitary Standards for #18-03
Free of PVC and phthalates
Assembled and ready to ship in 10', 20', 25' and 50' lengths (non-stock lengths upon request)
316 stainless steel Tri-Clamp® fittings engineered specifically for butyl hose
Made in USA
SPECIFICATIONS
MONOFILAMENT REINFORCED BUTYL HOSE

PART
NUMBER
I.D.
(IN.)
O.D.
(IN.)
VACUUM
RATING (IN./Hg.)
BEND
RADIUS (IN.)
LBS.
PER FT.

452 1000

1

1.64

29.9

3.5

0.44

452 1500

1.5

2.14

29.9

4.5

1.63

452 2000

2

2.77

29.9

7

1.21

NOTE: Available in standard lengths of 10, 20, 25 and 50 feet.

The data listed throughout this web site is meant only as a guide to aid in design, and is believed to be reliable; however, nothing stated shall constitute a guarantee or warranty for any application. Product field-testing should be performed to find the actual values for a specific application.

Specifications are subject to change without notice.
---
Craft Beer Hose Assemblies
Food and Beverage Grade Brew Hose and Sanitary Fittings
You invest a lot of time, energy and money in your brew. Why take a chance of ruining it with bacterial entrapment and flavor contamination? With our extensive knowledge learned from the pharmaceutical industry, our hose assembly crimp technology offers smooth hose-to-fitting transitions for unrestricted flow.
Which hose assembly would you rather run your beer through?