Kink Resistant Brewery Hose
Wire Reinforced, Butyl Hose for Suction & Discharge Applications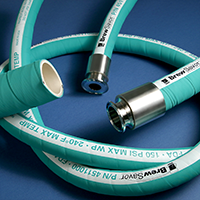 Notes
Construction

Liner:

White FDA Butyl rubber

Reinforcement:

Multiple plies of polyester with helix wire

Wire:

Steel helix

Cover:

Green EPDM rubber
---
Fitting Styles Available
All recommended fittings, collars, hinge clamps and accessories are made from 300 series stainless steel.
---
Physical Properties**
Minimum
Operating Temp., °F

-40

Maximum
Operating Temp., °F

240

Working Pressure
at 70 °F (21.1°C)

150psi

Max Burst Pressure
at 70 °F (21.1°C)

600psi
**Values listed are typical for the material used in manufacture, except where noted, and are meant only as a guide to aid in design. Field testing should be per- formed to find the actual values for your application.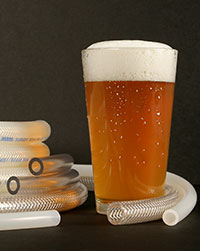 Introducing BrewSavor® by NewAge Industries – manufacturing tubing and hose products for both low and high temperature applications in the brewing process. Whether you are a Craft Brewer or a Home Brew enthusiast there are BrewSavor products to meet your needs.
Ultra smooth, white, chlorobutyl rubber liner offers high purity and allows unrestricted flow; minimizing entrapment and blockage concerns
Microbe-resistant liner is built on stainless steel mandrels for cleanliness and will not impart taste or odor
Meets FDA and Canadian Food Inspection Agency (file: N267) standards
Butyl compound used is free of animal-derived ingredients
Multi-layered and reinforced with a helix wire, making it ideal for suction and discharge applications
Rated for full vacuum (29.9 in./Hg.)
Works best in non-oily beverage and food applications including potable water, beer, wine, and juices
Available in bulk quantities or as complete hose assemblies
Offered with standard BPE Stainless Steel Tri-Clamp® fittings, collars and clamps
Clean In Place to 248°F (120°C). Not intended for continuous steam service.
SPECIFICATIONS
NAFB-BW - BEER AND WINE BEVERAGE GRADE BUTYL HOSE

PART
NUMBER
I.D.
(IN.)
O.D.
(IN.)
VACUUM
RATING (IN./Hg.)
BEND
RADIUS (IN.)
LBS.
PER FT.

NAFB-BW-1500

1.5

2.05

29.9

6

0.95

NAFB-BW-2000

2

2.55

29.9

8

1.18

NAFB-BW-3000

3

3.67

29.9

12

2.02

NOTE: Hose may be ordered in bulk or as hose assemblies. Maximum continuous length is 100 ft. Specify length (per foot) when ordering.

The data listed throughout this web site is meant only as a guide to aid in design, and is believed to be reliable; however, nothing stated shall constitute a guarantee or warranty for any application. Product field-testing should be performed to find the actual values for a specific application.

Specifications are subject to change without notice.
---
RECOMMENDED FITTINGS & CLAMPS

FITTINGS FOR NAFB-BW-1500

- 1-1/2" I.D. BUTYL HOSE

FITTINGS FOR NAFB-BW-2000

- 2" I.D. BUTYL HOSE

| | |
| --- | --- |
| PART NUMBER | DESCRIPTION |
| 10R-24R | TRI-CLAMP 304 SS |
| 91U-24 | 304 SS COLLAR |

| | |
| --- | --- |
| PART NUMBER | DESCRIPTION |
| 10R-32R | TRI-CLAMP 304 SS |
| 91U-32 | 304 SS COLLAR |
---
Craft Beer Hose Assemblies
Food and Beverage Grade Brew Hose and Sanitary Fittings
You invest a lot of time, energy and money in your brew. Why take a chance of ruining it with bacterial entrapment and flavor contamination? Let the professionals at NewAge put together your hose assemblies for you.
Which hose assembly would you rather run your beer through?