Craft Beer Hose Assemblies
Food and Beverage Grade Brew Hose and Sanitary Fittings
You invest a lot of time, energy and money in your brew. Why take a chance of ruining it with bacterial entrapment and flavor contamination?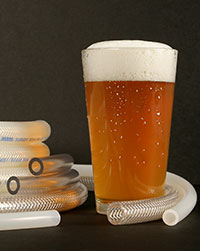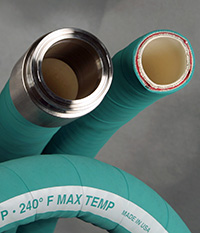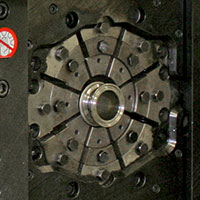 ---

WE ARE EMPLOYEE OWNED!

A Big Benefit to Our Customers, As Well As Our Employees
Called an ESOP (Employee Stock Ownership Plan), the program involves the selling of a portion of company stock to its employees as part of their retirement benefits and became effective in early 2006.
Which hose assembly would you rather run your beer through?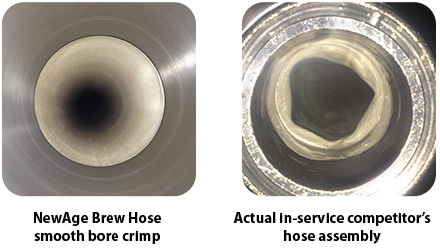 NewAge Brew Hose Assemblies offer:
Smooth hose-to-fitting transitions for unrestricted flow

Crimp technology learned from the pharmaceutical industry

Butyl rubber lined hose and sanitary fittings keep the flavor of your brew pure

Hot or cold processes; suction or discharge

Made in USA and assembled with Solar Power

Antimicrobial, phthalate-free tubing, plus silicone tubing and reinforced hose, also available
Your brew benefits from our crimping expertise and technology transfer
Our craft beer hose assemblies use smooth butyl-lined rubber hose for purity and durability and 316 stainless steel Tri-Clamp fittings for chemical and corrosion resistance. NewAge employs experienced hose assembly technicians and uses technology developed for the critical aspects of the clean pharmaceutical industry. The assemblies are well suited for hot or cold fluid transfer processes and handle both suction and discharge applications.



Craft Beer Hose Assemblies - Product Features
brew hose crimp ad.pdf

PDF (6.2MB)
---
Other Craft Brew Tubing and Hose Products
NewAge Industries features high quality tubing and hose products suitable for a variety of brewing processes involving both hot and cold temperature ranges. Antimicrobial tubing contains an ingredient that is throughout the tubing, not only on the interior as with similar products.
NewAge Brew Tubing - Product Application Overview
NewAge_Brew_Tubing.pdf

PDF (303KB)
---
Tubing and Hose for Cold Applications
Braided style handles processes involving pressure
Smooth surfaces for outstanding flow
Transparent for full visual contact
FDA compliant materials plus NSF certification
Useful for moving liquids below boiling temperature between the chiller and fermenter
Unreinforced style with antimicrobial properties available
Nylobrade® - Braid Reinforced Clear Hose
Clearflo® Ag-47 - Clear Unreinforced Antimicrobial Tubing

---
Silicone Tubing and Hose for Hot Processes
Handles temperatures from -100°F to 350°F
Odorless, tasteless and inert; translucent
Resilient and extremely flexible
FDA compliant materials plus NSF certification
Ideal for all brewing temperatures and for transferring boiling wort to and from the chiller
Reinforced and unreinforced styles available
Silcon® - Unreinforced Silicone Tubing
Silbrade® - Braid Reinforced Silicone Hose
Silbrade® Platinum - Ultra High Purity Silicone Hose

BACK TO TOP